Call Us For Your Garage Door Repair!
Our overhead garage door repair is a mobile service that travels to wherever you need us to. We have garage door springs and the best garage door openers so that you can have the best quality for your home and family. You don't have to worry about anything, with the top notch quality you have. You will have the best security so it will be one less thing to worry about.
We, at Houston Texas Garage Repair Pro, are a team of experts dedicated to providing efficient garage door repair services in Houston, TX. Built on a repute of competitive prices, pre-eminent services and a large base of satisfied clientele, we have carved a niche for ourselves in the industry.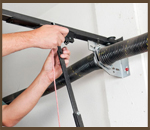 If you are a homeowner, businessman or a contractor, you can completely rely on us for the installation, repair or replacement of your garage door at any time.
A lot of people often underestimate the problems they face with garage doors and their mechanisms, assuming that they can fix them on their own. However, there can be a number of complex issues with the garage door that must be handled only by a professional. That's why we recommend you calling us ASAP!